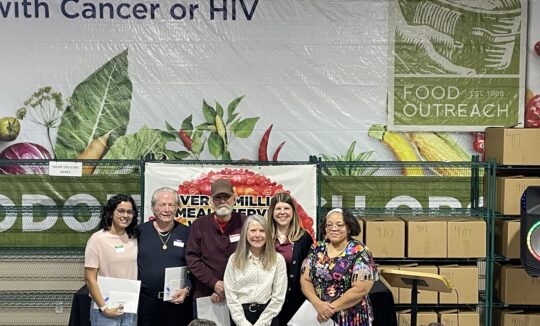 Volunteer Appreciation Event 2023
Every year, Food Outreach hosts an event to honor the volunteers who generously donate their time to help us provide nutrition support and healthy entrees and sides to nearly 2,000 individuals living in the St. Louis area with HIV or cancer. Our volunteers are our main ingredient! In 2022, 1,287 volunteers contributed 17,268 hours. They helped us fulfill our mission by cooking and packing 172,079 scratch-prepared entrees and sides, assisting in the nutrition center by gathering clients' orders, and packing boxes of groceries and frozen entrees and sides for home delivery. We are fortunate to have such a generous and supportive community of individuals, families, students, corporate supporters, and community partners!
Volunteers were recognized with The President's Volunteer Service Award for the hours donated in 2022:
Bronze recipients donated 100-249 hours
Silver recipients donated 250-499
Gold recipient donated 500+ hours
Awards were also handed out to individuals who donated 50-99 hours serving our mission.
This year, the event was held at Food Outreach for a fun taco night! Food and beverage donations were given by Pappy's Smokehouse, Nothing Bundt Cakes, and Narwhal's Crafted.