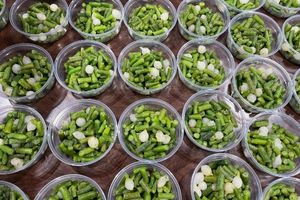 JoAnn knows about health, well-being, and determination. She's been a holistic health practitioner for more than 40 years. The road began with her enrollment at St. Louis University's Parks College of Engineering, Aviation, and Technology. "I was one of 8 women in a college of 400 men," said the Nerinx Hall High School graduate, remembering her time at Parks College. "The culture between the two] was so different."
But being there inspired JoAnn to rethink her future. Determined to use wellness to make a difference in our world, she transferred colleges, trained to become a certified massage therapist, and eventually attended the renowned Self-Heal School of Herbal Studies & Healing in San Diego, where she studied with global leaders in the field of phytotherapy. "I learned so much about herbs, tinctures, and oils," said JoAnn. "And my understanding of treating and nourishing the whole body grew as a result."
Recently, JoAnn was diagnosed with cancer. "After working on several clients, I was relaxing and had my hand on my right pec." She explained that she felt a lump and instinctively knew something wasn't right. "I immediately went to Siteman [Cancer Center]. They've been more than life-changing for me," she added. "They're amazing. They referred me to Food Outreach."
"After my first chemo, it really affected my body a lot. My treatment is clinically proven to kill the cancer in my body, but my body didn't know these drugs. In the beginning, all I could do was lay on the couch. I could hardly eat and didn't have any energy to cook," said JoAnn. "It's important for me to keep my nutrition up so my body can heal from all the chemicals going through it. Food Outreach is a great help."
The meals and pantry staples provided by Food Outreach help reduce some of the stressors in our clients' lives. As a trusted provider, we are privileged to hear our client's stories, opening the door for us to provide support in every conceivable way in terms of nutrition, physical health, and emotional fortitude.
"It's a beautiful agency. Their client services manager calls to see if I'm OK, and he's so professional. I think he should be on the news because of his voice. You can really talk to him," said JoAnn. "I told him fish wouldn't be good one week. Don't even let me smell it. Going through chemo, my nose goes through some things. And he made sure I had chicken and veggie selections that delivery. And, I know love has been put into cooking the meals."
"I'm going to beat this cancer," said JoAnn, emphasizing the importance of gratitude and not giving up. "Smiling every day is key, so your body knows you're happy, and your immune system works. Keep pushing yourself, even if you don't think you can. Even a walk around the block can be helpful. You may see a kid and their parent walking their dog, and that might change your whole day." she added.