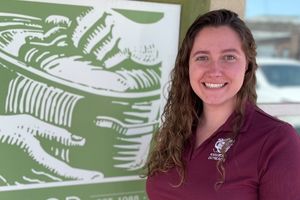 New Leadership Grows at Food Outreach
Food Outreach announces the addition of Caleb A. Bobo and Amy Broadwater to the Board of Directors
"We are thrilled to welcome such talented, dedicated, and inspiring individuals to our Board of Directors," said Julie Lock, Executive Director of Food Outreach. "Their collective expertise is invaluable and furthers our mission of reducing food hardship for our neighbors living with HIV, cancer, and uncontrolled diabetes. A heartfelt welcome to Amy and Caleb. We are grateful for your service!"
Caleb Bobo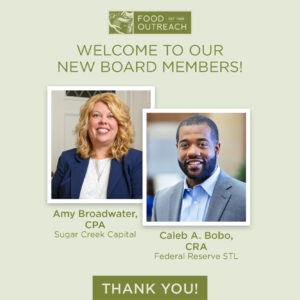 Caleb Bobo is a Senior Analyst on the SPRA and Consumer Affairs teams at the St. Louis Federal Bank. Prior to joining the St. Louis Federal Bank, Caleb worked for UMB Financial Corp., the holding company of UMB Bank, on their Fair & Responsible Banking Team. There he supported the bank's Community Reinvestment Act (CRA) program managing the tracking and documentation of community development loans, investments, and donations. He also managed the bank's implementation of the OCC's revised CRA rule.
Amy Broadwater
Amy Broadwater, a Director of Finance with Sugar Creek Capital, has joined the Board of Directors as Treasurer. Previously, Amy was a tax partner at the accounting firm RubinBrown LLP. While at RubinBrown, she provided tax and consulting services for real estate transactions involving tax credit incentives, including low-income housing tax credits, historic rehabilitation credits, New Markets tax credits, and renewable energy tax credits. She also helped lead the effort to open RubinBrown's Nashville office.
Food Outreach welcomes new staffer Katie Simpson
Katie Simpson, MSW, LCSW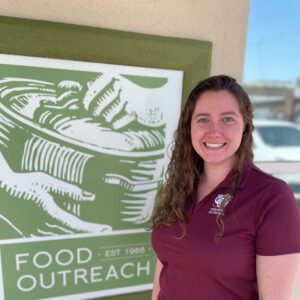 In related news, Food Outreach is happy to announce Katie Simpson, MSW, LCSW has joined the agency as the Director of Program Initiatives. Katie joins the agency from Operation Food Search where her work focused on developing and implementing community-based health equity programming and Food Is Medicine initiatives. As the Director of Program Initiatives, Katie will be responsible for building out programmatic initiatives around nutrition education, client engagement, and expanding program opportunities.
"We are pleased to welcome Katie Simpson to the Food Outreach family," said Julie Lock. "Katie brings many talents and expertise to our organization and will play a vital role in advancing our mission."