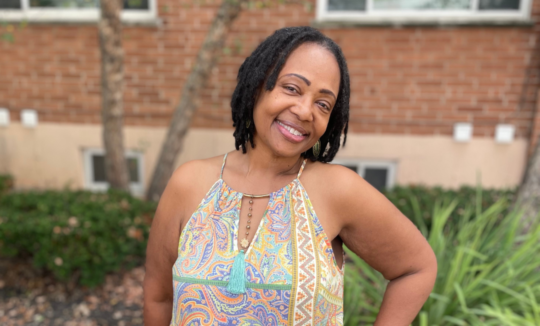 Meet Two-Time Food Outreach Client Renee Johnson!
Renee Johnson, a third-generation United States Air Force veteran, first came to Food Outreach in October 2012 when she was undergoing chemotherapy for stage three breast cancer. Almost ten years later, she found herself back at Food Outreach as part of a pilot program for veterans with type 2 diabetes.
Renee first heard of Food Outreach from a recommendation from her oncologist. He wanted to make sure that she had nutritional support during chemotherapy. But for Renee, it was the community at Food Outreach that meant the most to her. "At Food Outreach, I felt like I had a sense of support. I didn't have very much support when I was going through my cancer treatment. My spouse at that time was filing for divorce. All of my parents and grandparents and godparents are gone. And I was facing this pretty much by myself. Food Outreach was the one place that I always looked forward to coming to because that was really the only basis of support that I had. I'm sitting in the infusion room by myself, and it was nice to know that I was getting ready to go to Food Outreach because that's where I got my sense of community and support. Food Outreach served me in that way—it was so much more than just the food."
Renee was diagnosed with breast cancer when she was 48—the same age as when her mother was diagnosed with breast cancer. Her mother lost the battle to cancer when she was 53 years old. Now 59, and 11 years into remission, Renee still takes to heart all the advice her mother gave her.
"I live for her. And the one thing that she told me, never let fear keep you from understanding what you need to do in your life. And because she was afraid to tell us that she had breast cancer, it had metastasized, consumed her entire breast and chest cavity. You have to face these things. When I felt my own lump, I got on the phone, and I started making phone calls. Let's find out, where is it? What is it? I'm already ready."
In addition to the nutrition services, Renee found support in the community at Food Outreach. Other clients also dealing with the side effects of chemotherapy were great sources of practical advice. Simple advice—like to use plastic silverware instead of metal because it keeps the heavy metal taste out of your mouth—made a big difference in her care.
"I was going through so much stuff and stress. It was crazy. When I got to Food Outreach and met the dietician, one of the things that she did was write down the date of my next appointment on a color post-it note. It was on a blue post-it note. And I remembered that date without having to write it down, and without having to look at that post-it. When people wrote stuff down on white paper, it didn't stick, but she and I started doing color post it notes for my appointments and I made a correlation between the memory. They told me I had chemo brain, and it would be easier for me to remember things when it was associated with color. And so that was a discovery that happened at Food Outreach."
The fresh food from Food Outreach helped ease some of the side effects from the chemotherapy that Renee was receiving. "I had so much food from Food Outreach–the fresh fruits and vegetables and the way that everything is distinguished for your specific medical needs. I had to also change my mindset with what I was taking in outside of Food Outreach, and it ended up helping me make more healthy choices because I didn't get sick. I didn't suffer from nausea anymore because the chef prepared the food in such a way that it wasn't overbearing with any spices or seasonings."
Renee's cancer went into remission, but she returned to Food Outreach for help when she faced another health crisis—this time with diabetes. A veteran of the United States Air Force, it was Renee's VA doctor who recommend she come to Food Outreach in 2022 as part of a pilot program for veterans with uncontrolled type 2 diabetes.
Her family has a long tradition of service in the United States Air Force. She was the third-generation in her family to join the Air Force – from World War II to Vietnam to Renee.  Renee wanted to be a Military Police Officer, but an injury sent her home with an honorable discharge.
Determined to not let her injury stop her, Renee got her degree in psychology and counseling. "When I got discharged, I said, people out here need some help, and so I chose psychology, graduated from St. Louis University and went on to the University of Missouri St. Louis and got my Master's Degree."
Renee's experience with Food Outreach was just as positive the second time. "Y'all didn't let me get away with nothing! One day I just wanted apple juice and I went up and asked for apple juice, and the volunteer went over my list. She sat down with me and asked me why I wanted apple juice instead of tomato juice, and I said I just wanted something different. She got a can of apple juice and can of tomato juice and went over the labels with me. She did not have to do that, but she did because she genuinely cared. And we compared the ingredients and nutrition labels, and she said, so tomato juice, right?"
The community support at Food Outreach was as important to Renee as the nutrition she received. She still has the pink blanket she received as a Food Outreach client, and she remembers small kindnesses she received from the volunteers, staff, and other clients.
"Food Outreach has a very great sense of community. Even in things like the parking lot. I take notice of those kind of things–little simple things like that the trashcan never overflowing and the parking spaces are always clean and available. There's this whole friendliness that goes on at Food Outreach. I've had times when someone has seen me struggling and offered to help me to my car or give me an extra shopping bag. And it's because of the whole environment, the kindness of the staff and volunteers trickles right on down to those of us that are receiving the service."
Donate today to help Food Outreach clients like Renee!