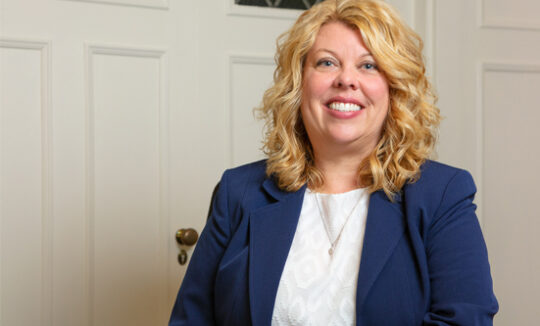 Meet Amy Broadwater, Food Outreach Board Treasurer
Amy Broadwater, CFO at Sugar Creek Capital, joined the board of Food Outreach in 2021. She first heard of Food Outreach from fellow board member and former Food Outreach Board President Jo Ellen Thelen. With Amy's experience as a public accountant, Jo Ellen asked her to join the finance committee. It proved to be a great fit and Amy was invited to join the Food Outreach board where she now serves as treasurer.
A certified public accountant, Amy has spent most of her career working on real estate transactions and the low-income housing tax credit. Prior to joining Sugar Creek Capital in 2020, Amy was a tax partner at the accounting firm RubinBrown LLP. While at RubinBrown, she provided tax and consulting services for real estate transactions including low-income housing tax credits. "The company I work for invests in affordable housing across the country. Prior to my current job, I was at a public accounting firm for 25 years and the low-income housing tax credit was a big part of my job. I had an interest in affordable housing, and Food Outreach and the clients we serve fit so well with my passion for trying to help and give back to those who need help."
After living in Nashville where she helped open a new branch of RubinBrown, Amy moved to St. Louis and now lives close to family. She currently lives within walking distance of her brother and his family in Illinois.
Her mother's experience with cancer reinforced her commitment to Food Outreach and our mission. "Two years ago, my mother was diagnosed with breast cancer. She's fine now but she had my dad, me, my brother, and other family to rely on for help. As much as they had on their minds with the treatments, they didn't have to worry about food insecurity or anything like that. And just seeing how differently that could have gone—Food Outreach is amazing. I love the fact that they pivoted during COVID to do home delivery."
"I look forward to working with Food Outreach to continue to serve clients in the best way possible because with food costs soaring, I think it's going to become even more critical. I love that Food Outreach is doing pilot programs to see if there are other chronic illnesses and diagnoses where we can provide help and nutrition support."
Amy graduated with a bachelor's degree in accounting from Grove City College. She received a Master of Accountancy degree from Truman State University. She is a licensed Certified Public Accountant in Missouri and a member of the Missouri Society of CPAs.