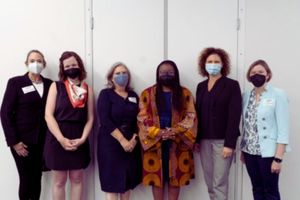 Food Outreach Hosts Inaugural Education Session on Nutrition and Food Insecurity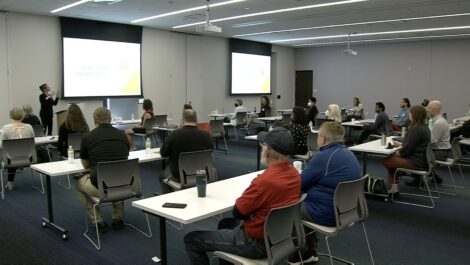 We are committed to serving more community members living with chronic illness by expanding access to our lifesaving services. To that end, we held our first Education Session on Nutrition Insecurity on May 17 at RUNG for Women in St. Louis. The session brought together leading nutrition, healthcare, hunger relief, and chronic disease experts. Discussion centered on creating positive systemic change through partnerships and community engagement to combat barriers individuals experiencing medical fragility face in St. Louis City and County.
Food Outreach Executive Director Julie Lock opened the education session with an overview of our work and the challenges around nutrition insecurity. Dr. Mati Hlatshwayo Davis, Director of Health, City of St. Louis, delivered the keynote, providing an update on the region's public health, and discussing health inequity and its impact.
A panel discussion followed Dr. Davis' remarks. Panelists added more about the importance of medically tailored nutrition, how the built environment and institutionalized racism affects health and its outcomes, and opportunities for innovation and support in addressing nutrition and food insecurity in our community.
The session successfully shed light on the complicated issues contributing to nutrition and food insecurity and illuminated pathways forward, building upon our community's collective strengths. At the heart of our mission, Food Outreach believes individuals who are seriously ill should have access to the nourishment they need to manage their condition. Through your support, we help our clients feel better, connect them to community resources, and empower them to manage their illnesses better. The nutritious, medically tailored meals we serve have offered hope to thousands of our neighbors.
The session successfully shed light on the complicated issues contributing 
to nutrition and food insecurity and illuminated pathways forward, 
building upon our community's collective strengths. 
At the heart of our mission, Food Outreach… Click To Tweet